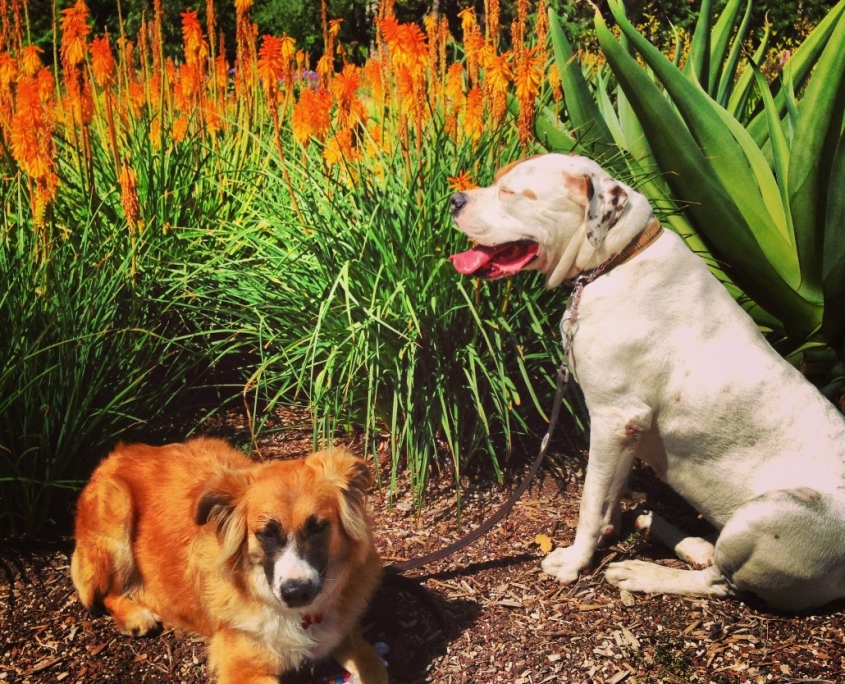 My hometown is known worldwide for flash and style. Movie stars and power.  Some people are quick to judge me as rich and influential.
So why can't I get more traction on the animal rescue front? Some of my neighbors shop for dogs. Their inspiration? Movies like Marley and Me or Beverly Hills Chihuahua. They search for specific breeds and pay breeders a tidy sum.
I paid a small donation to the local animal shelter for one dog, and a slightly bigger donation to Ace of Hearts for my other dogs; my mixed breed Corgi-Australian Cattle Dog Shane and my American Bulldog, Molly, were rescues. Stella, my partner in crime, is a rescue. When I try to explain to would-be dog owners that my dogs are tops and didn't come from pet shops or breeders they nod their heads, "That's so admirable of you."
Admiration is not what I'm looking for. What I want is to change their minds about how they find their next four legged. My dogs are good with people, loving and goofy.Molly was a gorgeous purebred. Shane was a mutt who didn't win any beauty contests, but he was the most loyal, scrappy dog you'd ever meet.If rescues have baggage from their past lives, consider the breeder's dogs who may carry baggage from the genetic pool. In other words, a purebred lab may suffer hip dysplasia and a rescue may be skittish around new people. Owners learn to work with it.
Some would-be owners think they need a breeder to identify a "good dog." They can ask a friend instead. Or they can hire a trainer to help them.
Breeders are in business to sell dogs for financial gain. Ditto for pet shops and puppy mills that keep their dogs in crates, delivering litter after litter.When money is the deciding factor, animals come second or third…or much worse. A backyard breeder used Stella, my trusty bulldog sidekick, …for years. Not until a friend saw her on a Facebook page for "Free Stuff" did she come into my life. She was skinny and insecure and close to 7 years-old. Now she's jolly and a mite rotund. (Hey, it's muscle, not fat!) To put it mildly, I can't live without her.
Clearly insecurity is only one reason people seek breeders. Status is another. Just like your handbag or your car, our society places a lot of weight on branding. When my neighbor boasted about her new Labradoodle puppy, she felt pride and posted a plethora of photos. Just imagine if she'd talked about the rescue process instead of the breeder.
Don't get me wrong, if your dog boosts your status and makes you feel good, I don't have a problem with that. The Russian Czars had their Standard Poodles. Cowboys have their Heelers. Fashionistas have their Chihuahuas. By all means, stand taller, walk prouder with your four-legged by your side. Owning a dog is a powerful experience.
All I'm saying is, keep an open mind when it comes to rescue. Saving a life could change your life.
https://cynthiabaseman.com/wp-content/uploads/2020/03/GoRescueGoHome.jpeg
1030
1030
Cynthia Baseman
/wp-content/uploads/2020/02/cynthia-website-logo.png
Cynthia Baseman
2019-01-06 03:07:54
2022-10-20 02:57:19
Go Rescue or Go Home