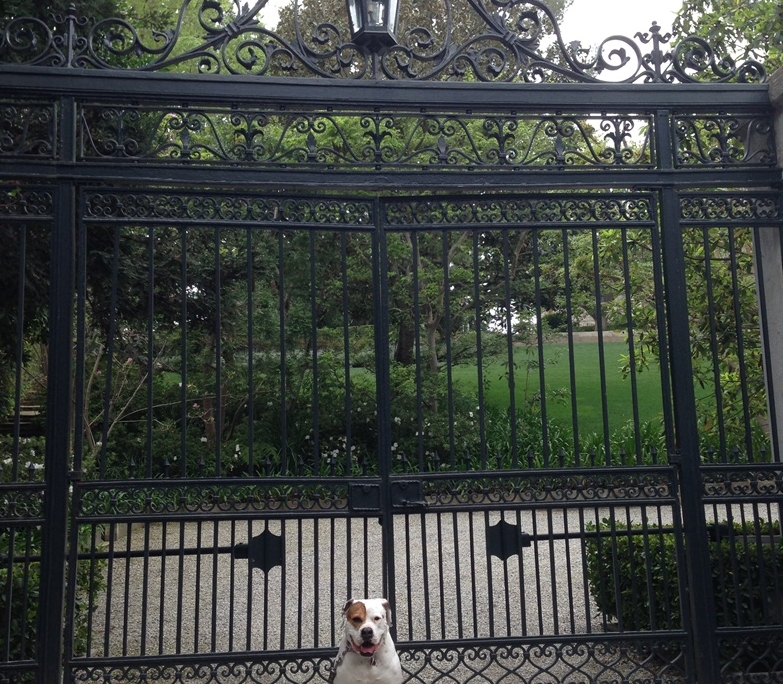 Studies show a percentage of pathogens and bacteria found in the ocean, which can cause typhoid fever, bacterial gastroenteritis and Hepatitis A are from dog poop.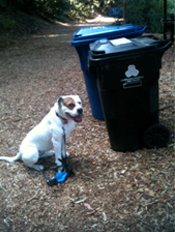 Molly, the rescue American Bulldog, at TreePeople
Q: What's worse than stepping in a pile of dog poop?
A: Swimming in it.
Rainy season is here and urban runoff is a problem.  So are lazy dog owners, but I'll get to that in a second.
Urban runoff is the flow of water over rooftops, streets and trails. Along the way it carries anti-freeze, chemicals and bacteria to the ocean. If you live in California, don't roll your eyes. In Los Angeles, less than half an inch of rain can result in almost 4 billion gallons of runoff dumping into the Pacific Ocean.
My friend Joe made the mistake of surfing too soon after a recent rainstorm and he got such a bad stomach bug, his skin practically turned green. Urban runoff occurs when it rains, but did you realize washing your car in the driveway contributes to the 10-25 million gallons of completely untreated, unfiltered water that flows through storm drains every single day? That's a lot of water and unfortunately, a load of dog poop, too.
Back to those lazy dog owners. Experts at the Environmental Protection Agency estimate that a single gram of dog waste harbors 23 million fecal coliform bacteria, which can cause cramping, diarrhea and even serious kidney disorders in humans. The EPA figures that around two days' worth of poop from 100 dogs would be enough bacteria to close a bay to swimming.
Obviously, it's not polite to let your dog poop in the street indiscriminately. Now we know it's actually really dangerous. Molly, my Ace of Hearts rescue dog, and I walk 20-25 miles a week. We cover ground bordering multi-million dollar homes and we get our feet and fur dusty, hiking in the mountains, too. No matter where we end up, we always find ourselves dodging stray dog poop.
A wrinkle in the Not Cleaning Up category is the dog owner who bags the poop and then sets the bag down. Every time Molly and I hike at TreePeople in the Santa Monica Mountains, we have the unpleasant moment of…ugh, another one? My training as a Scout leader taught me to always leave a place Better Than You Found It so sometimes I pick up the stinky bag and look for a trash can asap.
Last weekend when I picked up someone else's poop bag, the trash can stood a mere 15 yards away. Last I heard, there was no janitorial service on contract in the state parks. Clean up programs exist, but they're costly.
I know people are complex; they can love their dogs, be drawn to nature and can overlook that they are contaminating that which they love. The hardest part for me: these complex folks clearly believe they are better than I am because to them, it's perfectly acceptable that I pick up their dog's poop.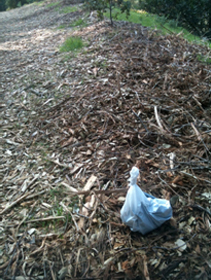 I guess I can accept that they might be better than I am. But better than my dog? Not possible. She's the most playful, intuitive, gorgeous canine around. So the next time you see someone leave his or her goody bag on the sidewalk or trail, call him or her on it. Buck up. What are they going to say? Nothing! They'll be ashamed. And if you don't catch them in the act? Buck up again. Pick it up and dispose of it properly.
It's the right thing to do.
Sources:                                                                                                                                                                   http://www.stormwatercenter.net/Pollution_Prevention_Factsheets/AnimalWasteCollection.htmhttp://www.healthebay.org/                                                                                                                                http://water.epa.gov/
https://cynthiabaseman.com/wp-content/uploads/2020/03/Poopon-Poop-rotated.jpeg
1044
783
Cynthia Baseman
/wp-content/uploads/2020/02/cynthia-website-logo.png
Cynthia Baseman
2019-06-12 03:35:43
2022-10-20 02:55:42
The Poop on poop