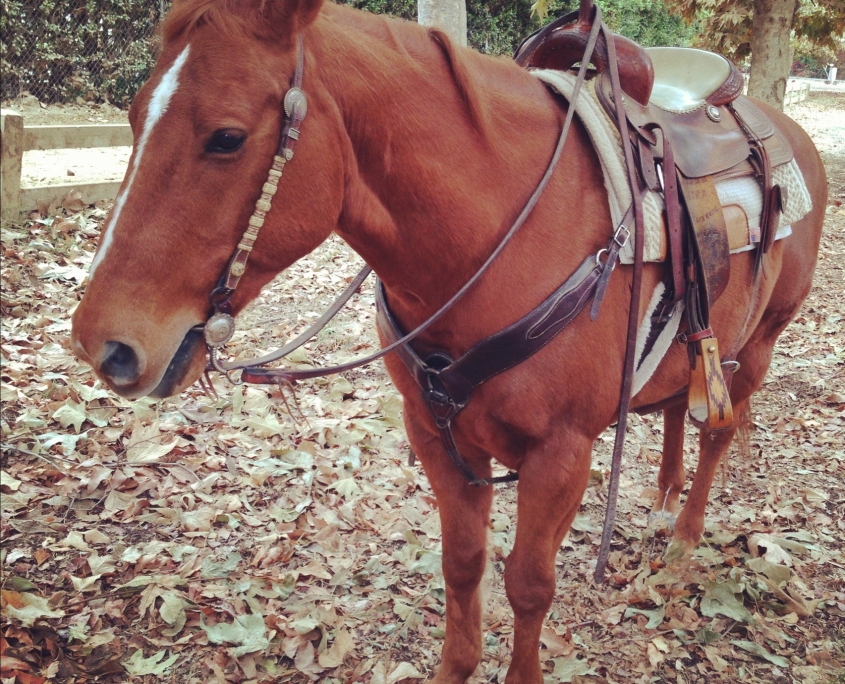 A century ago, I would've been meandering with my horse through the old bridle trails when no one thought twice about having a stable on their property. If zoning laws allowed it, my Quarter Horse Huck would be at home, saving me bundles on lawn mowing. The next best thing is boarding at Bennett Farms at the Los Angeles Equestrian Center, a mere thirteen miles away.
I landed at Bennett's when my then six-year old wanted to ride. Suffice it to say that my kid now prefers running shoes and it's me with the roper boots.
In 2006, I brought Huck to Jim Bennett who loved him on sight..Before I could say whoah, Bennett put me on a retired Saddlebred show horse named Arnold since lessons were included in the fees. Goodbye western saddle, loose rein and slow jog. Hello English saddle, sans horn…not that I grabbed the horn but it was nice knowing one was there.
Over time, Bennett taught me to keep gentle contact on Arnold's mouth, to post so my derriere barely touched down and to "Get ready for an E-ticket ride!"  I never kicked Arnold into a canter; I merely thought it. Ignition time! Arnold collected himself and propelled us around the ring like there was a jetpack strapped to his haunches. I had to admit, this definitely beat the Matterhorn.
Saddlebred lessons translated well into trail riding on Huckleberry. My seat improved along with my confidence.That confidence and Huck's 'good mind' got us out of several scrapes. Like the morning when the city drained a giant water tank – without warning – and a virtual Niagra Falls cascaded down Mt. Hollywood. I kept my cool and Huck sloshed through, as brave a companion as I could ever wish for (either that, or he just really wanted to get home to carrots).
Another time he inexplicably froze.  I clucked for him to move and he refused. Then a man fell fifty yards through chaparral and landed nearby in a poof of dust. Huck humped up like he had on six-inch stilts. The man brushed himself off and wandered away and I peered up to see if anyone else was dropping by. Huck knew better and moved on.
Recently, injury set Huck back and Bennett generously gave me the go-ahead to ride my Saddlebred lesson horse Rheba during his recovery. She'd never been on the trail and the first time we tried to pass the gate, she balked. I had to back her out. We started slow, venturing further each ride. Eventually we braved bridges and toughed out tunnels. I can now say: We trust each other.
Thankfully, Huck is 100% recovered. Whoah! That doesn't mean I left Rheba in the dust. I just schedule a little extra cowboy time.